Lab Alumni
I have been fortunate to work with some outstanding people over the years. Here are some of the alumni of the lab and what they are currently doing.
---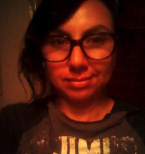 Lia joined the lab as a UC-MEXUS postdoctoral fellow in 2013. Her research interests center on evolutionary biology, ecology and functional morphology, specifically focusing on: 1) identifying general patterns of evolutionary diversiviation of vertebrates in order to understand the processes generating organismal diversity 2) the analysis of fish communities from the perspective of functional groups, and 3) merging morphometric analysis and ecology to determine vulnerability in fish communities and designing monitoring programs that allow early detection of changes in the health of ecosystems. In September 2015 she will begin a faculty position at the Instituto de Ecologia Aplicada of the Universidad Autonoma de Tamaulipas, Mexico. Contact
---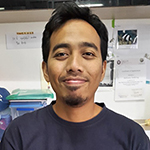 Aji Anggoro  is interested in the  interplay between ecological and evolutionary processes that shape species and genetic diversity in coral reef ecosystem, particularly in Coral Triangle. He is interested in using this information to advance marine sustainability in the Coral Triangle. He received B.S in Fisheries and Marine Science from Bogor Agricultural University and Master of Science in Biology from University of the Ryukyus Japan and joined the Barber lab  as a PhD student in fall 2015 supported by a fellowship from the Indonesian Ministry of Education.
---
Sarah Elwell (Boyce) is the Associate Director of Operations for Science at Harvard University. As a research technician in the lab, she studied the connectivity of Caribbean stomatopods, dispersal of Emerita sand crabs along the Pacific Coast, morphological and the genetic identification of Indo-Pacific stomatopod larvae.
---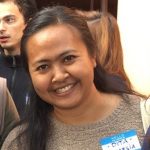 Dita joined the lab as Ph.D. student in Fall 2015 supported by a Fulbright Scholarship. Her research background is in marine biodiversity, phylogenetics and marine connectivity. She is  interested in evolutionary processes and using molecular techniques to support direct management and conservation. She received her B.S in Biology from Gadjah Mada University, Jogjakarta and holds a M.S in Environmental Science from Udayana University, Denpasar, Bali. She completed her PhD in 2021 and is now working with Bionesia, a non-profit focused on marine conservation and education based in Bali.
---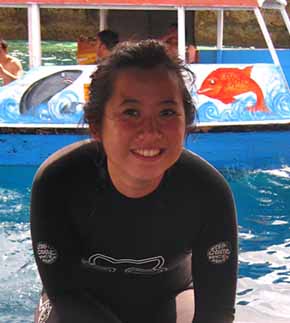 Sam joined the lab as a Ph.D. student in 2010. She studies how behavior, ecology and life history influence realized dispersal and population connectivity, particularly in the context of fisheries and marine ecosystem conservation and management. Her thesis focuses on evolution and connectivity of big fin reef squid (Sepioteuthis cf. lessoniana) and other commercially important squid, as detailed on her website.  She received her  B.A. in Organismal Biology and Ecology from Scripps College, and spent a year in Indonesia as a Fulbright Fellow. After she finished her PhD in December 2015 she did a postdoctoral fellowship at NCEAS and is now a Research Scientist at Arizona State University evaluating the social and ecological impacts of conservation programs. Learn more about Sam HERE.  Contact
---

A graduate of Cornell University, Benita complete her M.S.  thesis in 2007 on the phylogeography of of sea cucumbers in Indonesia, where they severely overfished. She is presently working for Outward Bound in Hong Kong
---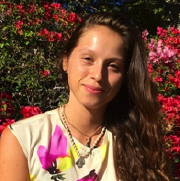 Kelcie joined the lab as a Ph.D student in 2014. She was an NSF Bridges to Doctorate Fellow and a recipient of the NSF Graduate Research Fellowship. She completed her thesis  "Understanding the ecological and evolutionary dynamics of tropical seagrasses and the factors driving habitat distribution" in 2021 before going to Florida International University as an NSF Postdoctoral Fellow. In 2023 she joined the faculty at University of Puerto Rico. You can learn more about her HERE.
---
Candice came to us from Layola Marymount University. She completed her MS thesis on "The Positive Impact of Using an Asset-Based Approach in a Racial-Ethnic Centered Pre-Health Research Program on the Education and Career Goals of Undergraduates Underrepresented in STEM".  She is currently teaching at CSU Dominquez Hills.
---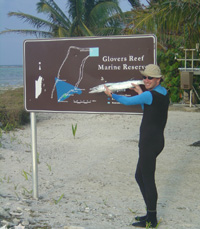 Eric competed his Ph.D. thesis on "Isolation and Gene Flow in Indo-Pacific Species with Marine Larvae" in December 2007. His research focuses broadly on how populations of marine species are genetically and demographically connected by the dispersal of planktonic larvae. He is a founding member of the Diversity of the Indo-Pacific Network (DIPnet) and is currently a faculty member at California State University, Monterey Bay. Visit his webpage HERE.
---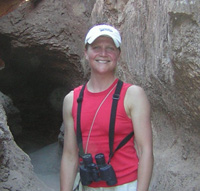 Timery completed her PhD thesis "Evolution and Conservation of Giant Clams (Tridacna) across the Coral Triangle" in 2010. Timery was a zoologist at The Nature Conservancy and a biological constultant prior to joining us BU. She completed her Masters degree at UCSD studying behavior of red-faced warblers. After completing her PhD she worked at Ocean Genome Legacy.
---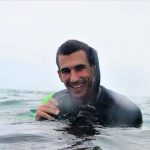 Sam Degregori joined the lab in 2016 from Cal State Long Beach. An alumnus of The Diversity Project, he completed his PhD thesis "Delineating the evolutionary and ecological controls on coral reef fish gut microbiomes" in 2022 before going to Northwestern as an NSF Postdoctoral Fellow.
---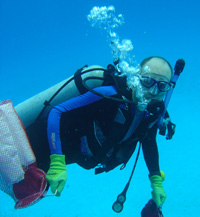 Josh completed his Ph.D. in 2008 on the "Biogeography, evolution and conservation of Melanesian coral reef fishes". Josh integrates genetics, bioinformatics and  traditional ecological knowledge to advance our understanding of the evolution and conservation of marine ecosystems, particularly fishes. He is currently a faculty member at Columbia University. Visit his lab webpage HERE.
---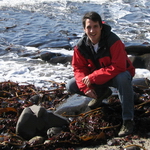 As a Senior Research Technician in the Barber Lab, Devin employed microsatellite markers on a variety of projects to understand connectivity, paternity, and natural selection on coral reef fishes.  He completed his PhD thesis at Washington State University in the laboratory of Mark Dybdahl in 2009 studying coevolution of hosts and parasites. He is currently on the  biology faculty at University of Alaska, Fairbanks. Visit his lab webpage HERE.
---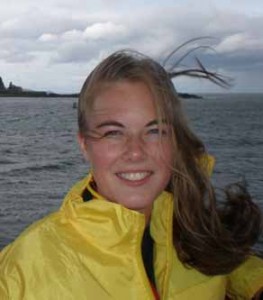 Allison joined the lab as a Ph.D. student in 2010. She is broadly interested in the evolution and conservation of species diversity and adaptive genetic diversity. Allison is currently studying ecological speciation of Indo-Pacific nudibranchs. She is using genomic data to understand how coral host associations contribute to population divergence and speciation. She has a B.S. in Natural Resources from Cornell University and previously served as a Conservation Genetics Intern with the U.S. Fish and Wildlife Service. She is currently an NSF Postdoctoral Fellow working with Terry Gosliner at the California Academy of Sciences. Visit her website HERE. Contact
---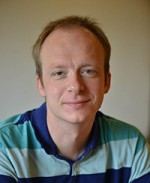 Soren joined the lab as a Postdoctoral Fellow in 2010 and studied the evolution and diversification of marine tartigrades along the West Coast of North America. He received his Ph.D. from Aarhus University in Denmark where he studied various aspects of genetic variation in marine organisms including global phylogeography of marine tartigrades and the application of 3D imaging techniques to the study of horseshoe crabs. He is currently a postdoc in the lab of Miguel Araújo.
---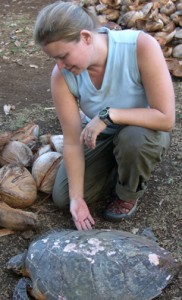 Ali is interested in the processes that generate and maintain biodiversity (both species diversity and genetic diversity), especially for the squamate reptile faunas of remote island systems. Ali joined the Barber lab in August 2009 after completing her Ph.D. at the Louisiana State University Museum of Natural Science. She is currently a postdoctoral scholar at the Smithsonian Institution
HamiltonAH@si.edu
---
Zack joined the lab as a PhD student in 2015. He is interested in  the interplay between local (pollution, overfishing, habitat destruction) and global (climate change and ocean acidification) stressors on marine ecosystems and using this information to improve marine policy and coastal management under climate change. Currently, Zack is focused on using environmental DNA (eDNA) and metagenomics to create rapid marine biodiversity assessments to study marine protected area design in the Channel Islands. He received his B.S. in Marine Biology with Honors from Stanford University and was awarded an NSF Graduate Research Fellowship. Visit his website here.
---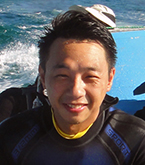 Vanson joined the lab as postdoc in 2013.  His broadly interested in the evolution, population genetics, phylogeography, systematics, species boundaries and conservation of coral reef fishes.  At UCLA he is studied the phylogenetic relationships of a tribe of blenniidae and the phylogeography pattern of blue green damsel in Indo-Pacific region.  He is currently a postdoc at the Academia Sinica in Taiwan. Contact
---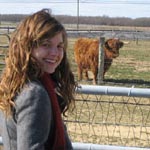 Megan is interested marine invasive species and the factors that promote invasions. Megan finished her masters thesis at Boston University in 2007 on "Genetic Structure of Menidia menidia Across an Environmental Gradient", and then continued on to a Ph.D. with Dr. Kai Chan and Dr. Dolin Levings in the department of Resource Management and Evionmental Studies at the University of Brittish Columbia. She is currently a Early Career Fellow at the Center for Ocean Solutions, Stanford University.
---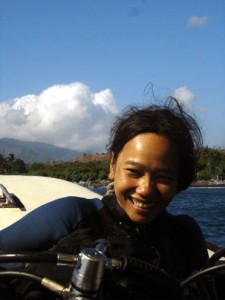 Shinta joined the lab from Indonesia on a fellowship from the Wildlife Conservation Society. She completed her M.S. at Boston University on the evolution, and genetic connectivity in fusiliers. After graduation, she returned to Indonesia where she continues to work for the Wildlife Conservation Society promoting coral reef conservation in Indonesia.
---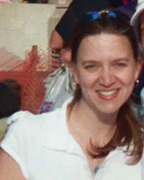 Elizabeth completed her PhD. in 2012 on "A seascape genetics approach to exploring the phylogeographic response of marine fishes to late quaternary climate change." She integrates genetics and ecological modeling to understand the evolution and conservation of marine biodiversity and developed the MARSPEC database for marine spatial ecology studies. She is currently a postdoctoral fellow at the National Center for Evolutionary Synthesis (NESCent).
elizabeth.sbrocco@duke.edu
---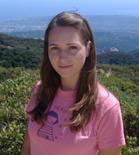 Sara joined the lab as a Ph.D.student in 2009. She has a research background in larval biology, dispersal, and population connectivity. Her thesis work focuses on ecological speciation in coralivorous snails.  Sara has a B.Sc. (Hons) in Zoology from the University of Tasmania and a M.S. in Biology from California State University, Fullerton. After finishing her PhD at UCLA, she worked for the Idaho Department of Fisheries. For more information on  her research, click HERE . Contact
---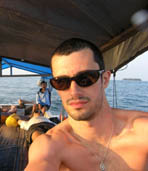 Craig was postdoctoral researcher in the lab, funded by the NSF PIRE program and spent most of his tenue doing field work and helping run collaborative molecular labs in the Philippines and Indonesia. He finished his Ph.D. at Columbia University and the American Museum of Natural History in 2007 in the lab of Dr. Andrew Baker. After his time with us, he did a AAAS Science and Technology Policy Fellow at the U.S. State Department. He is now a research scientist in the School of Global Environmental Sustainability at Colorado State University. Click HERE for more information.
---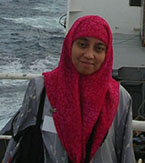 Rita  joined the lab as Ph.D. student in Fall 2009. Her thesis research focuses on differential coral bleaching in Indonesia. She is examining how the coral-zooxanthellae symbiosis responds to climate change using molecular methods . She holds a M.S. in Aquatic Science from Bogor Agricultural University, Indonesia. Since completing her PhD, she has returned to her position as a Research Scientist in the Indonesian Ministry of Marine Affairs and Fisheries.
---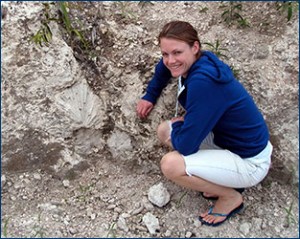 Michele joined the lab in 2010 as a postdoctoral researcher funded by the NSF PIRE program and was based full time in Indonesia at the Indonesian Biodiversity Research Center. Michele received her Ph.D. from University of California, Berkeley, in 2009 examining the diversity of Symbiodidium in giant clams across their Pacific and Indian Ocean ranges. After working with us, she moved to the lab of Monica Medina.
---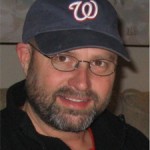 Tim joined the lab in 2006 and did research focused on the evolution, systematics and conservation of sea cucumbers in the Coral Triangle. Tim is currently a research director with the New England Aquarium where he manages a team from the engineering, marine science, and fishing industry sectors engaged in the research and development of methods to reduce fisheries bycatch.
tbwerner@comcast.net
---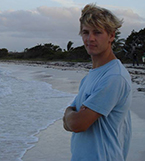 Demian joined the Barber lab as a Postdoctoral Research in September 2012 on the NSF-supported Coral Triangle Partnerships in International Research and Education (ctPIRE) project. He studies  the spread and impacts of an invasive seagrass in the Caribbean and uses molecular and morphological tools to understand the evolution and conservation of high marine biodiversity in the Coral Triangle, particularly the Philippines. He is currently a lecturer at UCLA and Loyola Marymount University and continues to collaborate with us.
dwillett@odu.edu
---
Adjunct Lab Members
There are many students who have worked in the lab, but are members of other lab groups. We actively support students who wish to incorporate molecular tools into their research, regardless of lab affiliation.
---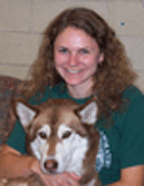 Heidi studied the effects of toxins on chemical communication and mate choice in aquatic ecosystem. Her work focused on a hybrid zone in Mexican swordtails, and is employing a spectrum of behavioral and genetic methods to understanding the breakdown of species boundaries in this system. She finshed her Ph.D. in 2006 under Gil Rosenthal then did a postdoc with Hopi Hoestra at Harvard University. She is currently an Assistant Professor at University of Maryland.
---
Beth studied the evolution of visual communication systems in Neotropical reef fishes. Her research used phylogenetics to frame questions about the adaptive response of body color patterns and visual sensitivities to environmental characteristics. She is a former member of the Rosenthal Lab. She is currently working for COMPASS, coordinating the dissemination of important scientific research to the general public.
---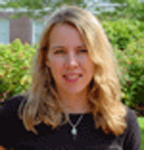 Mindy studied genetic variation in Gambierdiscus toxicus, which is a toxin-producing dinoflagellate responsible for ciguatera fish poisoning.  For her thesis she investigated the global distribution of toxic and non-toxic isolates of G. toxicus in order to determine if and how the genetic variability of G. toxicus relates to the biogeographic pattern of ciguatera incidence. A former member of the Lobel Lab, she is presently a postdoctoral fellow at the Woods Hole Oceanographic Institution.
---

Jason examined the connectivity of reef fish populations in Hawaii and central Pacific Atolls in the context of marine conservation and MPA siting and design. Following BU, he worked for the Community Conservation Network in Hawaii and as a Coastal Management Specialist for NOAA's National Marine Fisheries, and then Conservation International. He is currently the Associate Director of Shoals Marine Laboratory.
---